Ever since its inception this institution has been fortunate enough to attract the best talents in the field of Ayurvedic Science. KochunniThampuran (Eminent Visha Vaidya), Sri.KuttancheryValiya Aryan Mooss, Asta vaidyan Vaidyaratnam Thaikkat Narayanan Mooss, Sri. Vaidyamadam Valiya Narayanan Namboodiri, Sri. Kelathu Kochunni Achan, Sri. Mooriyil Narayana Nambisian Senior, Sri. Munda VaidyarPadinjakara and Sri. GovindaVarierwere the pillars of Samajam at Cheruthuruthy. When it was shifted to Shoranur, Sri. Kuttanchery Aryan Mooss, Vaidya Mahodadhi Vaidyamadam Valiya Narayan Namboodiri, Thirunavaya Shankaran Mooss, Ashtavaidyan Pulamanthol Shankaran Mooss, Sri. Aryan Mooss, Sri.K. V. Vaidyalinga Iyer etc. were the leading physicians.
In later years, Sri. K.Sreedharan Nair, Sri. Purushothaman Elayathu and late Padmasree Dr.Rajagopalan MBBS, DAM, FNAA were the prominent Vaidyas of Samajam. On the wings of their ideologies and voluntary services, it was just a matter of time for this institution to grow up and occupy an exalted position in Kerala. Today, samajam is blessed with expert hands of Dr. K. P. Muraleedharan BAM (Former Principal, AVP College, Coimbatore), Dr. M. P Eswarasharma MD (Ay)(Former principal of APS Varrier'sAyurveda College, Kottakkal), Dr.Ratheesh P. BAMS, MD (Ay) (Professor – PNNM Ayurveda College), Dr. Vineesh V. MD (Ay) (professor – PNNM Ayurveda College), Dr. Deepthi Balakrishanan MD (Ay), (Reader - PNNM Ayurveda College), Dr. Vijayakumari Amma S. (Principal / Medical Superintendent), Dr. Sasidharan K. MD (Ay)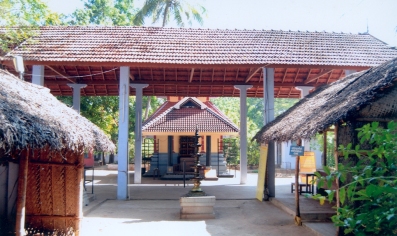 (General physician) andDr. Arjun M. MD (Senior physician). Apart from these experts, teachers of our Ayurveda College also are providing medical examination and treatments under various departments like eye and gynecology.